Exit Marine Brings Electrification to Seward
As electrification changes the world, forward looking Alaskan business are expanding their customer base and investing in projects that benefit their local community.  Laura and Kenneth, owners of Exit Marine and 60 Degrees Adventure Charters, noticed increased electric vehicle traffic to Seward; however, the city had no electric vehicle charging stations leaving many EV drivers desperately searching the RV parks for a chance to plug in.
Exit Marine decided to solve this problem with a personal touch that represents their unique work background of maritime trades, demolition, and explosives work. Their installation of 4 Tesla destination chargers is one of the most unique EV charger installations in Alaska, if not the world. Exit Marine's crew mounted the four chargers onto copper buss bars salvaged from a Nike missile command building. The bars and power generator powered the upper Nike site summit launch command building that served as a Cold War nuclear launch site on the mountain top above Anchorage.
Exit Marine is a high-quality full-service marine yard that offers boat storage, vessel repair, and boat watch. EV charging is a perfect fit for a full-service boat yard. As part of its full-service offering, Exit Marine stores and launches its customers' boats, which eliminates the need to drag the boat back and forth on a busy highway. EV owners can take a stress-free drive to Seward and have their boat in the water waiting upon arrival. While customers are out boating the EV charges for the drive home.
Laura and Kenneth see opportunity in electrification for their second business as well. 60 Degrees Adventure Charters specializes in customized multi day yacht charters that showcase the pristine beauty of Resurrection Bay and Prince William Sound. Laura and Kenneth believe that good environmental choices will benefit everyone and add value in the long term, which is why they hope to someday offer a fully-electric tour vessel that can take their customers on excursions while helping to preserve the natural beauty of the place they call home.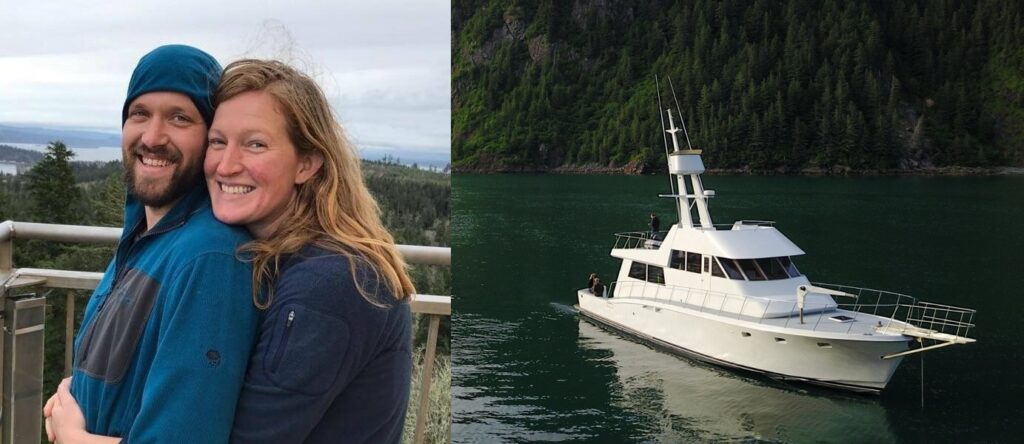 Three chargers are located at 1712 Alameda Rd outside the fence for public use and one customer-dedicated charger is located inside the yard. Laura and Kenneth are also working on two new charger locations in Seward. For their exceptional effort, we are very happy to make them our ELFS of the month!